Award-winning Jazz Artist MATT VON RODERICK
8:30 PM
TUESDAY, JULY 16TH
You are cordially invited to enjoy an evening of music with internationally acclaimed jazz artist Matt Von Roderick
An Intimate Jazz Concert in Hollywood Presented by: MWW Management
A top drawer trumpeter who also sings like an angel obscured by a storm cloud
--JazzTimes
A post-millennial Chet Baker
---The New York Times
Join the Guest List for free tickets when available -- or -- Purchase VIP Tickets for Guaranteed Seats to see
MATT VON RODERICK
MATT VON RODERICK
Live @
Catalina Jazz Club
MATT VON RODERICK: Trumpet/Vocals/Loops
Koji Ono: Piano/Keys
Presented by: MWW Management
🎟️
Join Guest List for access to free admission // Purchase VIP tickets for guaranteed seats
📅
Tuesday July 16th, 8:30--10:00 PM // Doors open for dinner at 7:00 PM
📍
6725 Sunset Blvd, Los Angeles, CA 90028
👀
Admission is strictly for guest list and VIP
Catalina Jazz Club is an all-ages venue
There is a 2 drink min purchase per person requirement
About MATT VON RODERICK
Imagine a singular, one-of-a-kind virtuosity paired with a dreamy vocal crooning style and deep jazz roots, and you're starting to conjure internationally acclaimed, award-winning Los Angeles-based jazz trumpet and vocal artist MATT VON RODERICK. Matt has been hailed as "a post-millennial Chet Baker" by the New York Times, and has performed with some of the most respected names in music today, including Brad Mehldau, Mike Posner, Chris Potter, Nneena Freelon, Dionne Warwick, The SNL Band and Antonio Sanchez.
As a soloist, Matt's poignant sound heals, activates and inspires, and has been a featured at Carnegie Hall, Lincoln Center and The Bonaroo Arts Festival, as well as events with best-selling author/spiritual activist Marianne Williamson. Matt has appeared on Saturday Night Live and The Ellen Show, and was named the 1st place winner of The Independent Music Awards Jazz Category as judged by progressive Rock icon Lou Reed. Matt was also a finalist in the prestigious Thelonious Monk International Jazz Competition and a recipient of the Vilar Global Fellowship in the Performing Arts, dubbed the "Rhodes Scholarship" of the performing arts by The New York Times.
Matt often combines his atmospheric tone with a dash of stardust, loops, modern textures and spoken word to create what the International Trumpet Guild calls "exquisite". JazzTimes Magazine calls Matt "a top-drawer trumpeter who also sings like an angel obscured by a storm cloud", while Downbeat Magazine describes his musical approach as "Zen-like…" Exclusive Magazine calls Matt's sound "musical greatness".
Visit Matt's website http://MATTVONRODERICK.com for more information. Follow Matt on Instagram @vonrockstar http://instagram.com/vonrockstar .
F.A.Q.
WHAT IS THE MINIMUM AGE REQUIREMENT
Catalina Jazz Club is an all-ages venue.
IS MY GUEST LIST TICKET FREE
Yes. A Guest List ticket provides access to free entry to see award-winning jazz in the heart of Hollywood. Limit: 6 Guest List tickets per order.
DOES BEING ON THE GUEST LIST GUARANTEE MY SEAT
Only VIP Ticket holders are guaranteed seats. Guest list ticket holders are seated on a first-come-first-served basis, until venue capacity is reached. Arrive early! As guest list tickets are free, people often request more than they need, so we have to issue more tickets than there are seats available to allow for this.
We do consider carefully how many extra tickets to issue for each show, and it is rare that we have to disappoint guest list ticket holders, but we recommend arriving in good time to get your seat. Unfortunately we cannot predict what time other audience members choose to arrive and therefore cannot give any specific time by which to arrive to ensure admission. If you would like a guaranteed seat, please purchase a VIP TICKET.
WHAT IS A VIP TICKET
A VIP ticket ensures GUARANTEED admission to experience award-winning jazz at one of the best jazz clubs in Hollywood. VIP ticket holders do not wait in line -- simply come to the box office and present your ID.
WHAT IS A V.V.I.P. TICKET?
The V.V.I.P. package includes: Guaranteed first two rows or your choice of seating, a free signed album, plus a meet-and-greet and photo with the artist following the show.
DO I NEED TO PRINT OUT TICKET
No. Your tickets are waiting for you at the box office! Just say the name of the reservation and show your ID. We'll take it from there.
WHAT IS A 2 DRINK MIN
This venue requires that each audience member purchase at least 2 drinks, or have dinner. Drinks do not need to be alcohol. All tickets (including Guest List tickets) require a 2 drink minimum per person with gratuity.
WHEN SHOULD I ARRIVE
Doors open at 7:00 PM and dinner is available at that time. We recommend arriving by 8:00 PM if you are a Guest List ticket holder, to help ensure admission to the show. VIP Ticket holders must arrive by start of show, at 8:30 PM.
WHAT IS THE DRESS CODE
There is no formal dress code, but most people avoid beach attire (shorts, flip flops, etc) and dress for a nice night out.
VENUE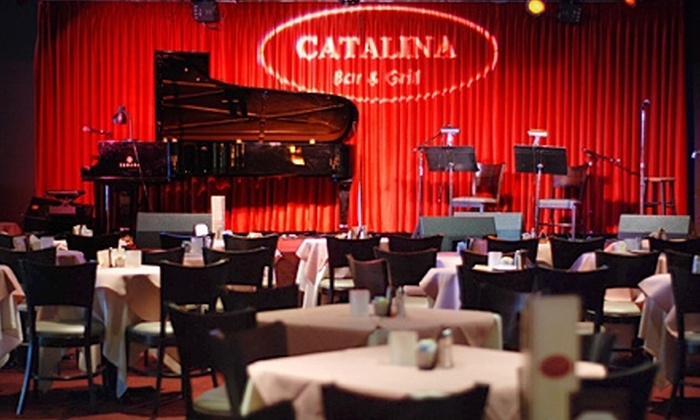 "LA's Best Jazz Club" --LA Weekly
Featuring a Full Bar and Dinner Menu
The Perfect Night Out
Catalina Jazz Club 6725 West Sunset Blvd.
Hollywood California 90028
(one block EAST of Highland Ave.)
ENTRANCE on McCadden Pl, through parking structure.