THE RAPHA COMPASS CHALLENGE
Aufruf zu einem Abenteuer mit dem Rad.
Inspiriert von den Reisen der Radfahrer des frühen 20. Jahrhunderts, die ganze Kontinente durchquerten, ist die Rapha Compass Challenge eine Fahrt der besonderen Art.
Diesen Juli laden wir dich ein, deine eigene Strecke zwischen vier Koordinaten um deine Stadt zu planen.
Die Teilnahme an der Herausforderung ist einfach. Melde dich an, überlege dir eine Strecke mit den Koordinaten und mach dich auf den Weg. Die Checkpoints können in beliebiger Reihenfolge an einem Tag oder innerhalb einer ganzen Woche abgehakt werden. Die Koordinaten erhältst du zwei Wochen vor der Challenge.
Alle, die sich der Herausforderung stellen, erwartet eine Reihe von besonderen Geschenken und Preisen. Jede Fahrerin und jeder Fahrer erhält einen limitierten Druck des Illustratoren Casey Robertson und alle, die innerhalb eines Tages jeden der vier Checkpoints erreichen, nehmen an einer Verlosung mit Preisen von Rapha teil.
Teile dein Abenteuer online als Beweis deines Vorankommens mit #raphacompasschallenge.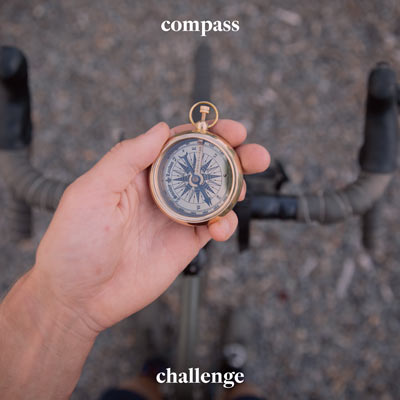 An open call to adventure by bicycle.
Inspired by the continent-crossing rides of early 20th century cyclists, the Rapha Compass Challenge is a ride with a difference.
This July, we're inviting you to plot your own course between four coordinates surrounding your city.
Taking part in the challenge is simple. Make a note of the coordinates, plot a route between them all, and hit the road. You can tick off the checkpoints in any order.
Coordinates will be available two weeks before the event.
We have an array of special gifts and prizes available to all those who take part in the challenge. Every rider will be awarded a limited print from illustrator Casey Robertson, while anyone who navigates to all four checkpoints in a single day will be entered into a draw to win prizes from Rapha.
Share your adventure online as proof of your progress using #raphacompasschallenge.