NERD Summit 2018
We are the New England Regional Developers! Each year we hold our annual NERD Summit. Building up to the summit we collaborate with the local community, creating a diverse curriculum for relevant skill building. Please join us!
Available T-shirt sizes
Youth Medium Small Medium Large XL XXL XXXL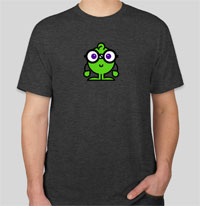 Summit Directions & Parking
Building Address:
Please note the change in building from conferences past! We will NOT be in the Campus Center this year!
UMass Amherst Integrated Sciences Building: 661 North Pleasant Street, Amherst, MA 01003
Parking in the immediate vicinity of the ISB will be limited. Please acquaint yourself with a few options from the maps below.
Driving Directions:
Detailed driving directions, and all other forms of transportation, to UMass Amherst can be found here.
UMass campus maps and parking information can be found here.
The Integrated Sciences Building is located near the top right corner of Zone C3 on the Campus Map.
Parking Information:
The parking garage is close to the building, but does cost money. It is however underground (in case of rain or snow) and poses no risk of a parking ticket. Most of the parking lots around campus allow free parking on the weekends, but make sure to pay attention to the signs at each lot (some are restricted).
As parking in the immediate vicinity of the ISB will be limited, please acquaint yourself with a few parking options using the Campus Map or the Campus Parking Map. Be sure to pay attention to the signs in each lot, as some are restricted.
Where to Stay
On-Campus
The UMass Hotel is right on UMass campus, and within easy walking distance to the Integrated Sciences Building. There is no room block reserved this year, as the event is taking place during a student break and rooms should be readily available.
Cheap
The University Lodge has rooms starting around $80. It's about a mile away from the site and a 10 minute walk into downtown Amherst.
Fancy
The Hotel Northampton is a beautiful historic hotel in the neighboring city of Northampton (about 15min away).
Other
The Amherst Chamber of Commerce has a listing of local hotels and motels and there is always Google.