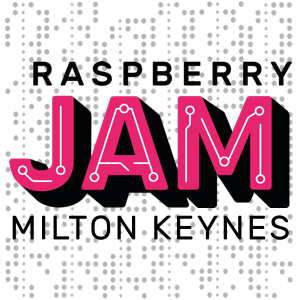 May 2018 Raspberry Jam
10am - 1pm at The National Museum of Computing
Curious about the Raspberry Pi? Want to learn to code or build cool electronics projects? Or maybe you're a maker and tinker who wants to share enthusiasm and knowledge with like-minded fans of these great little computers.
Raspberry Jams are social events held all over the world where people who are interested in Raspberry Pi come together to share their knowledge and learn new things as well as meeting other Pi fans.
This event is a combination of fun workshops where you can try your hand at a bit of electronics or coding and an informal, social show-and-tell. Made something cool? Come and show it to us all; share your knowledge and experience. Previously we've shown robots, musical gadgets, virtual reality and Pi-operated Enigma machines.
Nothing to show? Don't know a Raspberry Pi from a Strawberry Crumpet? No matter, this event is for you to learn about these remarkable computers and to eliminate any technofear you may have. Want to learn to code? Work with kids and need some support? Come along.
Are there ID or minimum age requirements to enter the event?
Nope. Young uns' very welcome and encouraged.
What are my transportation/parking options for getting to and from the event?
Parking is available on-site. We're only a two-minute walk from Bletchley rail station (Euston line). Bletchley bus station is about a 15 minute walk.
What can I bring into the event?
You're welcome to bring your amazing Pi project, we'd love to see it. If it's something large or has unusual requirements, please get in touch beforehand as we don't have an enormous space. If you've nothing to bring, don't let that deter you!
Can I plug stuff in?
Short answer, yes.
Can I solder something?
We're still working out the details on this. Hopefully, but don't count on it.
I don't know much about computers but am curious about the Pi. Is this for me?
Yes! One of the goals of Raspberry Jams is to share knowledge and insipre confidence. We were all noobs once.
How's the accessibility?
The National Musuem of Computing is a single-story building. Where there are steps, ramps are available.
Is there food and drink available?
We'll have water, teas, coffees and snacks. TNMoC has a small café that sells drinks, snacks and sandwiches subject to availability. Open from noon.
Does the ticket include entrance to the rest of the museum?
No. TNMoC is a charity that receives no goverment or lottery funding. We'd encourange you to see the rest of the museum after the Jam, but request that you pay the (incredible reasonable) entrance fee.
How can I contact the organizer with any questions?
Email hello@mkraspberryjam.org