FINNOVASIA Japan FinTech Night @ Hong Kong FinTech Week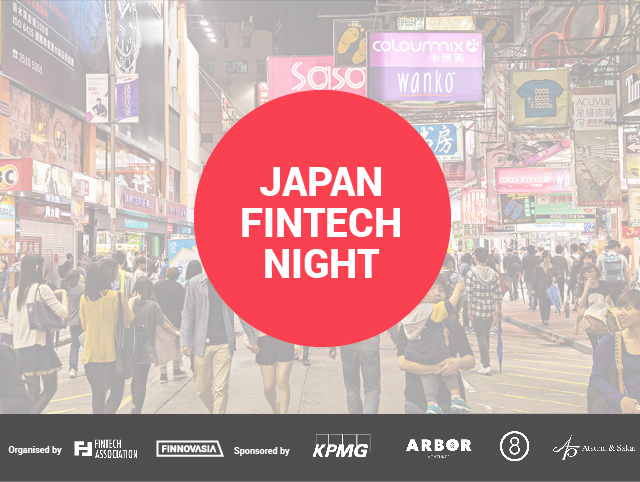 Japan FinTech Night is back. To celebrate the upcoming FINNOVASIA conference at Hong Kong FinTech Week, we are organizing a Japan FinTech Night together with FinTech Association of Japan. We are bringing outstanding FinTech entrepreneurs and executives from Tokyo to meet Hong Kong FinTech community. The event is open for all FINNOVASIA attendees and anyone who is interested in FinTech. Come by for drinks and networking and to learn about Japan FinTech space. The registration is free for all FINNOVASIA attendees, and its open to anyone who is interested in Japan FinTech.
A big thank you to Mikaal Abdulla from 8 Securities, Melissa Guzy from Arbor Ventures, KPMG Japan and Atsumi & Sakai for the support of the event.
Space is limited, so hurry up and register now!
Agenda
6:00 - 6:30 pm - Welcoming Drinks & Networking
6:30 - 6:40 pm - Welcoming remarks by FinTech Association Japan
6:40 - 6:50 pm – Fintech×A.I. by KPMG
Masumitsu Ito (Partner, KPMG FAS Co., Ltd.)
6:50 - 7:00 pm - A.I. Chloe Demo by 8 Securities
Mikaal Abdulla (CEO & Founder, 8 Securities)
Panel Discussion with:
Shirabe Ogino (Ph.D. Founder & CEO of ZAISAN Net/Phantom AI, Inc. Board member of Fintech Association of Japan)
Takeshi Kito (Crowd Realty, Inc. Founder & CEO)
Sawako Ohno (AnyPay Inc. COO)
moderated by Masaru Ikeda ( The Bridge, Editor-in-chief)
7:30 - 9:30 pm - Drinks & Networking