WITS Ireland & Australian Embassy - Endeavour Scholarship Information Evening - 27 March, 6:30pm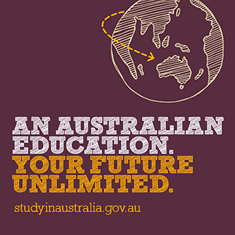 Interested in studying in Australia?
Do you want to try some Australian wine and beer?
Feel like some pizza?
If you answered yes to any of those questions and feel like learning about how you apply for a scholarship that would let you study in Australia, then come to a WITS Ireland/Australian Embassy Information evening at the Australian Embassy on Tuesday 27th March, at 6.30pm.
Over the past decade over 30 scholars and professionals in Ireland have been awarded Endeavour scholarships and Fellowships and a large majority of them have gone to Women in STEM. There will be past Endeavour scholars to talk about their own experience and how the scholarships have helped them in their careers and learn about what scholarships are available.
The Endeavour Scholarships and Fellowships are the Australian Government's internationally competitive, merit-based scholarships that provide opportunities for Australians and overseas citizens to undertake study, research and professional development around the world.
So come along and find out what opportunities there might be out there for you, learn about WITS Ireland as well as networking and a general chat with other students from a STEM background and enjoy free wine and pizza!
Featured Speakers - Dr Yvonne Smith
Dr Yvonne Smith graduated with a BSc. (Honours) in Biology from the National University of Ireland Maynooth in 2007. She then went on to undertake a 6 month FAS/Biolink research internship at Baylor College of Medicine, in Houston Texas, researching lung cancer stem cells in pre-clinical transgenic models of lung cancer. Yvonne then returned home to Ireland to start her PhD investigating the role of IGF-I signalling in the pathogenesis of breast cancer at the Royal College of Surgeons in Ireland (RCSI). During her PhD, Yvonne applied for and subsequently received an Endeavour Research Fellowship to conduct collaborative research at the Peter MacCallum Cancer Centre, Melbourne, Australia, which greatly enhanced her research. Since then Yvonne has enjoyed a career incorporating clinical and academic research and is currently working as a postdoctoral research fellow in the Department of Surgery in the RCSI based at Beaumont Hospital.
Dr Marion Palmer
Dr Marion Palmer is an experienced academic and higher education manager. She was head of the Department of Technology and Psychology at Dun Laoghaire Institute of Art, Design and Technology (IADT). Her research interests are teaching, assessment and technology enhanced learning. Prior to joining IADT Marion was a science teacher and also worked in curriculum development. Marion joined Women in Technology and Science WITS Ireland at its inception in 1990, was chair 2013-2016 and is now a member of the Executive. Marion tweets @marionjpalmer.
Women in Technology and Science (WITS) is an independent voluntary membership organisation supporting women in science, technology, engineering and mathematics (STEM) to reach their full potential.
Members come from a broad range of backgrounds within STEM. WITS members range in age and experience from third level students to some of the country's most eminent senior academics and business people including those who have retired from the workforce. Individual membership is open to women and men throughout Ireland who are involved in any aspect of science, engineering or technology. Affiliate membership is available to students. We also have corporate members.
The Endeavour Postgraduate Scholarship provides financial support for international applicants to undertake a postgraduate qualification at a Masters or PhD level either by coursework or research in any field in Australia for up to four years.
The Endeavour Vocational Education and Training (VET) Scholarship provides financial support for international applicants to undertake vocational education at a Diploma, Advanced Diploma or Associate Degree level in any field in Australia for up to two and a half years. Vocational education and training provides occupational or work-related knowledge and skills. The courses are directly related to a trade, occupation or 'vocation' in which the applicant participates. These courses exclude degree and higher level programs normally delivered by universities.
The Endeavour Research Fellowship provides financial support for international postgraduate students and postdoctoral fellows to undertake short-term research (4-6 months) towards an overseas Masters, PhD or postdoctoral research in any field in Australia.
The Endeavour Executive Fellowship provides financial support towards professional development opportunities (1-4 months) for high achievers in business, industry, education or government for international applicants. The Endeavour Executive Fellowship focuses on learning and building skills and knowledge through a host work environment in the applicant's field or area of expertise rather than through formal enrollment in a study program.